May 22-26  
Popcorn Words:  We reviewed all of our past popcorn words this week! We looked for different words each day inside our morning message and did different activities with the words!  The May popcorn word flashcards came home in your child's folder this week. 
Math:  We wrapped up our study of Unit 5 by taking a Math test this week.  Your child's Math test came home Friday! They did amazing!  It's amazing to see how far we have come!!  For the rest of the school year we will review our concepts from the year and have some fun with Math.
Writer's Workshop:  We wrapped up our Opinion Writing last week.  We celebrated with Mrs. Stutz's class this week by sharing our writing pieces. The Kindergarteners joined a friend and shared their Opinion of which restaurant was their favorite and why.  After they shared their writing they then got to decide which candy is better?  A starburst or chocolate?  We had 37 Kindergarteners who had the opinion that starburst candy is the best.  While another 7 believed that chocolate was the best.  These pieces came home Friday as well!
Reader's Workshop:  The Kindergarteners have been amazing with building their reading stamina!!  We have hit 20 plus minutes multiple times this week! We have been continuing to celebrate being readers!  We had fun Friday reading our books with some fun Memorial Day inspired sunglasses to stuffed animals in our classroom!
American Symbols:  We have had a lot of fun exploring our American symbols!  The Kindergarteners have learned about The Bald Eagle, The Liberty Bell, The American Flag, and the Statue of Liberty and more!!! We incorporated a bit of science with our discussion on the Statue of Liberty learning that she was originally not green but the copper turned green over years.  The Kindergarteners have been watching pennies in our classroom turn green (with a little help from vinegar).  We wrapped up this study of American Symbols while reading our easy reader book all about Memorial Day.  Learning about why we celebrate Memorial Day while wearing our proud red, white and blue!  In the afternoon on Friday we enjoyed a special red, white and blue popsicle treat with our 5th grade buddies….YUM!!  It was the perfect HOT day to cool down with all of our Kindergarten friends!! Thank you to all who serve, have served or given their lives to protect our country!!! 
Kindergarten Olympics:  On Friday, June 2 we will be having a fun time of games and Kindergarten fun!  Please ensure that your Kindergartener wears tennis shoes on Olympic day…NO FLIP FLOPS, SANDALS OR CROCKS PLEASE! If your volunteering where workout shoes too! Dress yourself and child in comfy gym/workout clothes to run around in. Bring a water bottle labeled with their name and don't forget to pack a protein rich snack for that day!  Don't forget the sunscreen!  If you are a volunteer for our Olympics please plan to arrive at 8:45 a.m. for instructions on the K/1 playground.  ALL parents and younger siblings are welcome to join us for a picnic lunch on the playground.  We will be having our picnic lunch at 12:00 p.m.  PLEASE EMAIL ME AT myankee@hpseagles.net IF YOU HAVE ANY QUESTIONS!!
Birthday's: Happy Early Birthday to Ellery and Dayne this week! Thanks for the yummy treats!!! It was fun celebrating with you! 
Mystery Reader's: We had 3 special mystery readers this week!
On Monday, Mrs. Wert, a past pre-k teacher of a large group of boys in our classroom came in for a surprise visit! She was a BIG hit!! She read 2 fun, silly books and got in lots of hugs from her old boys!!! 
Then on Wednesday we had a visit from Ivy, a 4th grader here at Georgetown!! Ivy was in my first kindergarten class here at Georgetown! She is so sweet and volunteers at her recess time every day to help in my classroom!! She fits in wherever and the kids love her!!!She is a huge help 🙂 On Wednesday she surprised us as the special reader, reading one of her favorite books from K…. EEEEKKK a Spider!!! We love you Ivy!!!
Finally on Friday a very special dad came to visit us!! Ember's dad, Mr. Vanderveen made his grand appearance reading a hilarious silly book about a Princess Dog and Frog! We laughed along with him! Thanks so much to our fantastic readers this week!!! I still have room for more before we wrap up the year, e-mail me!!!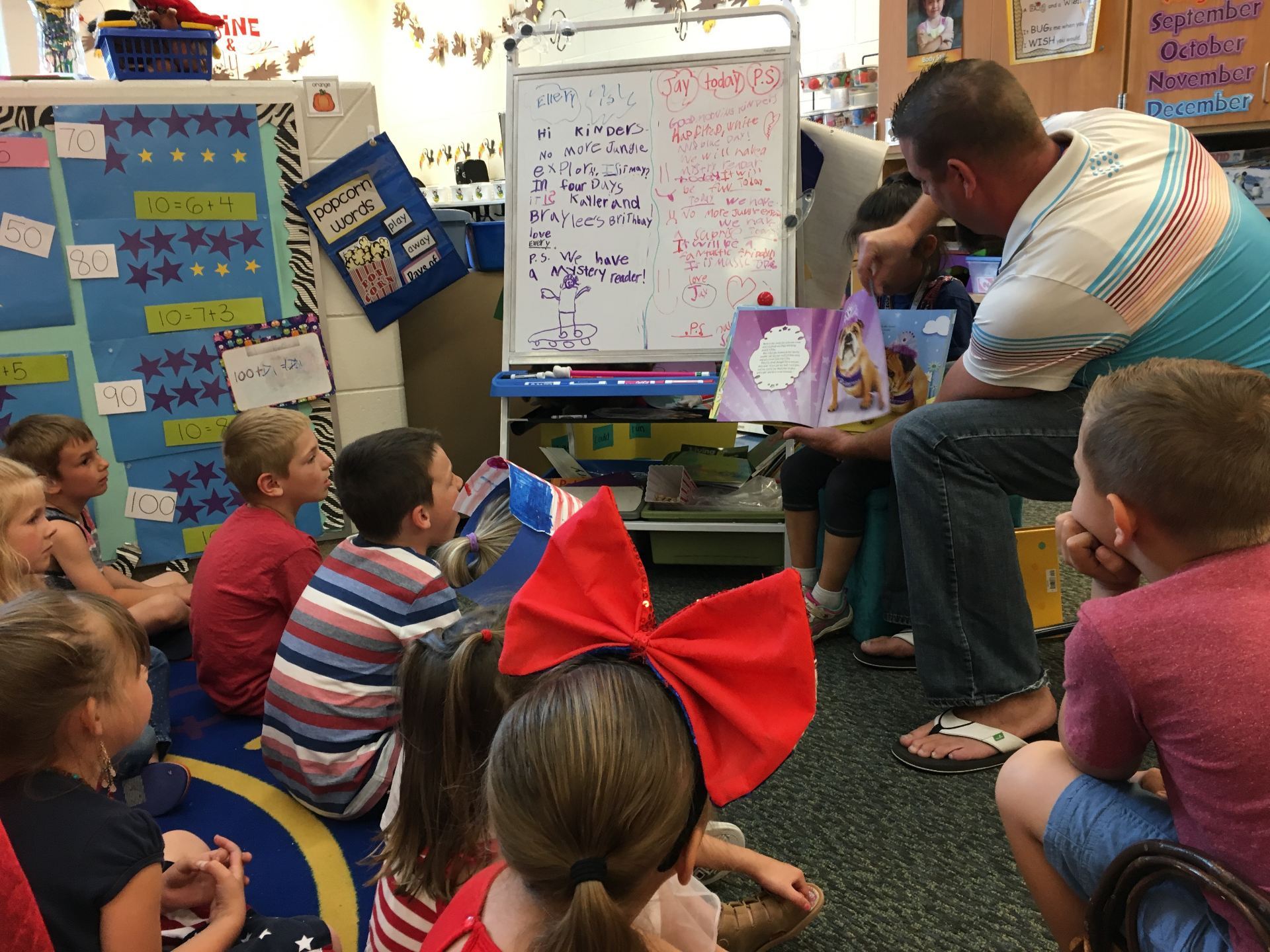 Butterflies and Frogs: Monday was a special day in our classroom! Our butterflies hatched out of their chrysalis's!!! We got to see them in action!! All 4 of them turned into beautiful painted lady butterflies!! We were all in awe!! We feed them watermelon and sugar water all week so they could gain their strength to be ready for their flight into the wild on Friday am!! We named them and watched them everyday as they became stronger! On Friday morning, we had Mrs. Stutz's kinder's join us for a beautiful release over the pond!! They all looked happy! 
We also had 2 of our 4 frogs officially become frogs Monday and need to be removed from the fish tank into a new habitat! We had fun watching the frogs all week, hiding in their container from us and jumping all around! So much fun!!! We also gave them a happier home on Friday when we released them into the pond water and watched them hop away! 
Upcoming Dates:
Monday, May 29…NO SCHOOL!  Happy Memorial Day!

Tuesday, May 30…ART

Wednesday, May 31 STEAM, Kayler and Braylee's Summer B-day Celebration!

Thursday, June 1…Gym, Cruz's Summer B-Day Celebration!

Friday, June 2…Music, Kindergarten Olympics

Friday, June 9…LAST DAY OF SCHOOL…Dismissal at 12:15 p.m.