May 9-13
Happy Mother's Day:  The Kindergartners worked so hard on their gifts for Mom!!  They took such special care about just how they wanted their gifts to look.  Choosing just the right colors and words.  We hope you enjoy your special gift!!  Wishing you all a VERY HAPPY MOTHER'S DAY!!!  Thank you so much for sharing your treasure with me!!
Popcorn Words:  my, by, and one
Math:  This week we continued our work in unit 5.  We practiced working with numbers to figure our greater than, less than and equal!  We worked on making teen numbers with groups of 10 and some more ones.  Also, practicing adding and subtracting numbers.
Writer's Workshop:  We are continuing our work on opinion writing.  We wrote our opinions this week on…is home lunch or hot lunch better? And what special do we like best (gym, art or music). The kinders were so excited to share their opinion pieces with Mrs. Bowers (art teacher) on Thursday because many of them chose art as the best special!!!  We are having fun writing our opinion, coming up with two reasons why and then coming up with a wrap up sentence.
Readers Workshop:  We are continuing to work on our reading stamina.  Our goal is to be able to sit quietly for 20 minutes and look at books, practice our sight words and even try to read. Next Friday, May 19, we will bring our own flashlight to put a "spotlight/flashlight" on our reading progress!!!
Science:  We have continued our study on Living and Non-Living Things.  We brought our lima bean plants home Monday! Hopefully, you found a special place to re-plant them and keep them growing!
On Tuesday we took our big field trip to the Hemlock Crossing in West Olives and Hager Park!! We had a blast exploring living and non-living things in 3 different settings- meadows, forest and pond! Then we loved to picnic and play with our friends to follow at the park. Thanks to the  many parents who were apart of our day to make it extra special! Check out some pictures….
We also made mini booklet on Animal Needs this week.  The kinders also had fun creating a flower craft. It has been so amazing to witness their love for science and explore the outside with them!!  We will continue with Science for the rest of the year with some "fun" science experiments.
Kindergarten Olympics:  A note asking for parent volunteers came home.  Volunteers will be notified shortly with details.  This special day would not be possible without your help.  Thank you so much.  If you still would like to be part of this fun day, please let me know by Friday, May 19.  It is such a fun day!!  All are welcome to come watch and even enjoy lunch with your child on Olympic day!  We do the Kindergarten Olympics on our K/1 playground.
Mystery Reader's:  Thank you to Mrs. Maldanado, Dayne's mom for surprising us on Thursday!!!  When she walked into the door Dayne came running into her arms!!! She brought a familiar fairy tale, Goldilocks and the 3 Bears, wrote partly in Spanish! It was fun to hear that Dayne's parents speak Spanish at home and he knows many words! It was fun to learn some words in Spanish!! 
Also big thanks to Logan, Liam's big brother in 5th grade on Friday for visiting us!!! Logan read his favorite book from when he was in kindergarten, Kitten's First Full Moon! It was a sweet tale of a cute kitten! He did amazing reading aloud to us!! There are 4 more weeks left to get in to volunteer as our reader, e-mail me!!! 
More Summer B'day's… We celebrated Rich and Liam this week! They have b'days in June and then July!!! Thanks for the treat bags Rich and the cookies, Liam!!!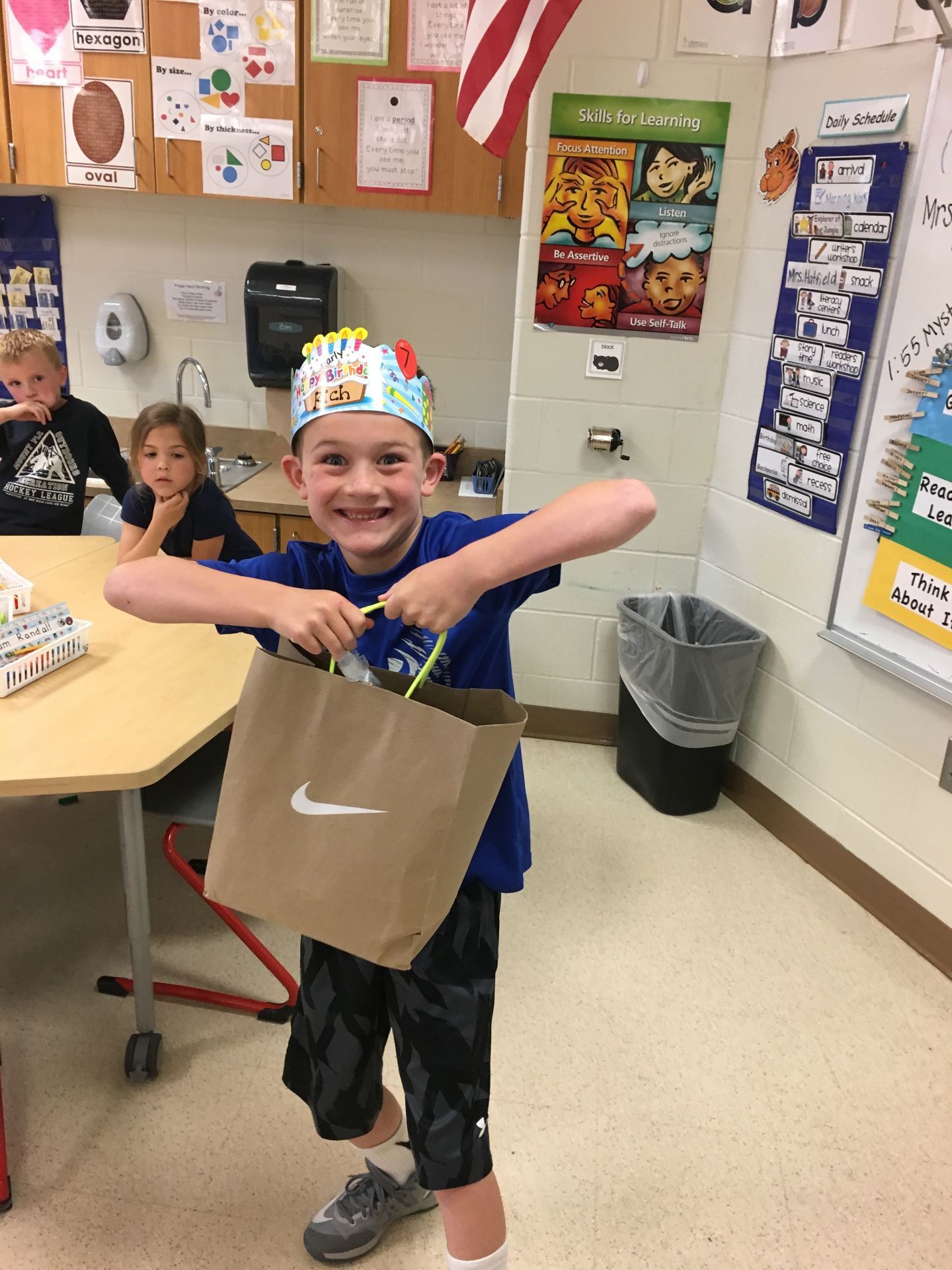 Library:  This coming Tuesday will be our last day to check out a library book for the year.  We LOVE our library time!!  Thank you Mrs. VandenBerg for guiding us this year during our library time.
Take Home Books:  We will wrap up our Take Home Books program Thursday, May 18.  Please be sure to send in any take home books by the end of the week.
Upcoming Dates:
Monday, May 15…Take Home Books and Ellie's Birthday!

Tuesday, May 16…Take Home Books, Last Day for Library Check-out! Celebrate Mady's Summer B'day!!! 

Wednesday, May 17… Math and Lit HW Due and take home books! 

Thursday, May 18…LAST DAY FOR TAKE HOME BOOKS.  Celebrate Lila's Summer B'day!!! 

Friday, May 19… BRING YOUR FLASHLIGHT!! Bring a flashlight to read with for the day. Label the flashlight with your child's name, it will be returned home the same day.  I will have a few extras to share!

Wednesday, May 23… Ellery's Summer Birthday!

Friday, May 26…Wear Red, White and Blue

May 29…NO SCHOOL, Memorial Day

Friday, June 2…KINDERGARTEN OLYMPICS

Friday, June 9…Last Day of School.  Dismissal at 12:15 p.m.